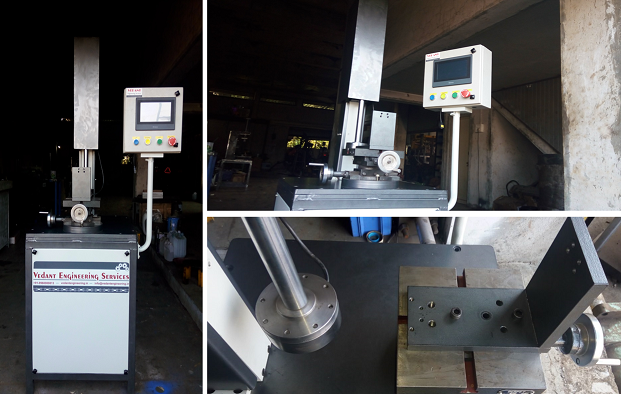 Vedant Engineering Services has specialized in the supply of automatic test machine solutions for many years. This knowledge is combined with our experience in production line equipment and process automation.
The result is a service to industry, which can offer complete quality assurance testing using the most modern technology and test equipment. Vedant Engineering Services has an enviable reputation for providing both quality equipment and superb back-up.
Every aspect of electrical, mechanical and software design, together with project development and manufacture is conducted on-site, enabling us to take full responsibility for your projects. Computer listings of parts, wiring diagrams and other maintenance information means that we can offer you a first class after-sales service.
We are the well known manufacturers of a high quality of products such as the Fully Automatic Endurance Testing Machine which is used to find out the strength of the different materials by the laboratories, material manufacturers and other industries. These products find very accurate measurements and they are very reliable in their readings.
Features:
PLC Smart Controlled,
High Precision Sensors,
Servo Controlled which gives better accuracy,
Dedicated Special Software Package,
Test Reporting Printing,
Graphical Display of Load, Displacement Different kind of graphs 
Data Logger Facility Provided,
Accurately calibrated
Easy to operate
Noise free operation
Maximum efficiency and accuracy

Software Package :-
The tester offers a host of software features that allows programming of all parameters, operational control and real-time display of the on-going test. This software package allows the operator to conduct a wide range of tests with an almost limitless array of test parameters and displayed test information.
If there is something, which is not listed, please contact us to discuss your requirements. We can tailor make machines and programs to our customer's requirements.
Endurance Testing Machines Manufacturers in Nashik Maharashtra India, Endurance Test Machines, Electrical Jumper Endurance Testing Machines Manufacturers in India Maharashtra Nashik, Fatigue Testing Machines.