Hydraulic Banjo Straightening Machine
---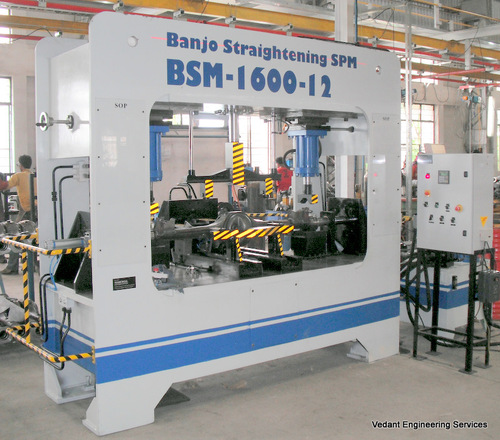 Our fully automatic hydraulic straightening presses have a compact design with easy stroke control operation. Clients can avail from us, special purpose machines (SPM) and accessories that are used in many industrial applications. Our supplied machines are widely popular due to their durable nature and low maintenance. We offer SPM for automobile industries, engineering, agriculture ind. Pharma ind. And we also offer welding SPM's. These spms can be automatic, semi-automatic and manual in nature.
Banjo Straightening Machine is used in straightening of banjo neck, banjo assembly etc.
We provide complete solution for:
Automobile Manufacturing Sector
Automobile Testing Sector
Automobile Parts Manufacturing Sector
We are one of the renowned Hydraulic Straightening Machine manufacturers from nashik.

Hydraulic Straightening Machines, Banjo Neck Straightening Machines, SPM Manufacturers, Special Purpose Machines Manufacturers in Nashik Maharashtra India,Hydraulic Straightening Machine Manufacturers.