Carefully manufactured by "

VES

", the indexing machine series features fully automatic operation and shortened cycle time. This machine series will dramatically boost productivity, while lowering production costs.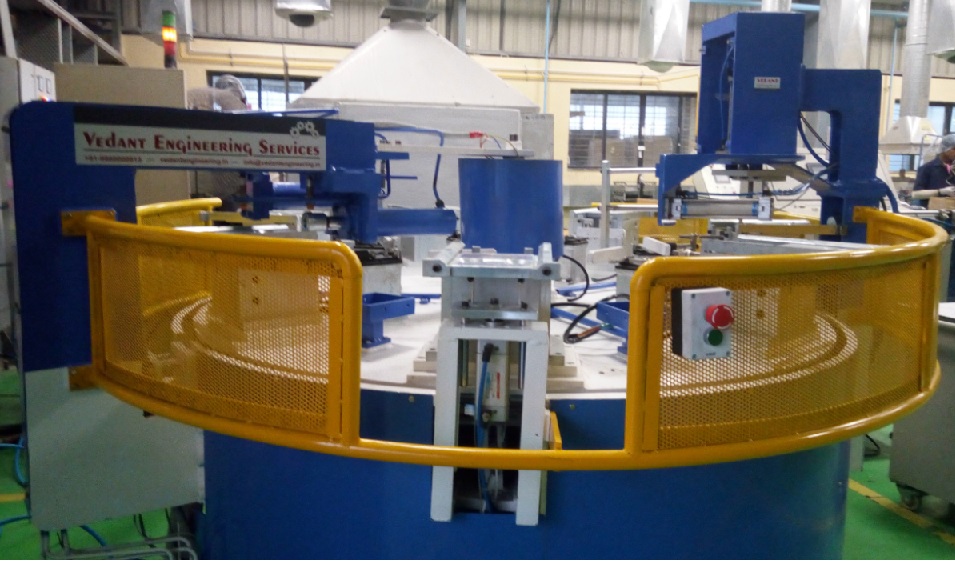 Rotary Indexing Machine– Typically the most efficient way to get high production volumes and to produce parts at a high speed is to use a rotary or linear indexing machine. By performing simultaneous actions on a number of parts the cycle time is reduced. Whether it is a rotary indexing dial or a linear power and free conveyor,
We can design and build a machine that allows you to assemble complex parts at a faster rate.
We an develop Indexing SPM (Linear or Rotary) as per customer's process requirement.
Our developed Indexing SPM (Linear or Rotary) can be-
Fully Automatic or Semi Automatic.
Have combinations of hydraulic & pneumatic systems.
Smart PLC controlled
We have developed upto 8 stations indexing SPM's.
Semi-Automatic indexing machines are best suited for lower volume and/or oddly shaped assemblies where automatic parts feeders would not be cost effective. A semi-automatic machine can also can be designed as a base machine for a fully automated assembly where product volume is expected to rise in the future.
Fully automatic machines are best for higher volume products which would benefit from reduced labor costs. They are also a good option for assembly inline with molding operations.
Rotary Indexing Assembly Machines Manufacturers, RSPM Manufacturers, Indexing Machine Manufacturers, Rotary Indexing Machine Manufacturers, Assembly Machines Manufacturers in India Maharashtra Nashik. Special Purpose Machines Manufacturers.
No Fields Found.