Pipe Bending Machines
---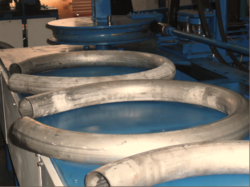 We offer premium quality Pipe Bending Machines which is manufactured from high grade quality raw material. These precision engineered pipe bending machines are of international quality and can be customized as per the client's requirements. We develop Pipe Bending Machines for various applications like furniture, two wheeler accessories, decorative items, Automotive Seat Frames, Crash Guards, Hydraulic Piping, Chemical and Process Tubes.
Features :
Suitable for different large sizes of pipes & tubes

Sections

– round, square, rectangular, oval, profiled, tube-in-tube, solid rods, wires
Fully Automatic & Semi Automatic Pipe Bending Machines 
PLC / Contactor logic controlled
Single and multi-plane, clockwise and counter-clockwise bending
Tools for simple to complicated bending- split tools, heated tools, compound tools, multi-stack tools, etc.
Large radius bending (CLR)
Extra long mandrel length, as desired
Thin-walled tube bending
Thick-walled, tight-radius tube bending (1D boost bending)
Variable radius roll bending
Multi-radius bending
Integrated tube loading/feeding and unloading systems etc.
 We are one of the renowned Pipe Bending Machines Manufacturers from Nashik.
 Hydraulic Pipe Bending Machines, Pipe Benders, Automatic Pipe Bending Machines, Pipe Bending Machines, Large Thickness Pipe Bending Machines, Customized Pipe Bending Machines, SPM, Special Purpose Machines Manufacturers in Nashik Maharashtra India, Hydraulic Pipe Bending Machines Manufacturers in India.Andhra Pradesh,Maharashtra,Gujrat,Karnataka,West Bengal,Tamilnadu,Arunachal Pradesh,Delhi,Karnataka,Goa,Kerala,Madhya Pradesh,Uttar Pradesh,Chattisgarh,Odisha,Rajasthan,Tamilnadu